 
Interior LED 50 Watts logo projector (fixed projection)
Interior LED 50 Watts logo projector (fixed projection)
Product with the best quality / price ratio

European stock

Responsive sales department
Interior LED 50 Watts logo projector,
Illuminate your brand and communicate in light!
> Possible uses:
- light logo projection in shop, restaurant, bar,
- light arrow projection to guide visitors,
- light pictogram projection on the ground,
- projection of light advertising on the ground,
- projection of Facebook or Instagram address, etc.
> Technical information:
LED power: 50 Watts
LED brand: Cree
LED usage time: 30,000 hours
Recommended projection distances:
- night: 10 meters,
- normal lighting (250 lux on the ground): 4-5 m,
- intense lighting (500 lux on the ground): 2.5 m.
Use: indoor (outdoor model available in the EXTERIOR PROJECTORS category of the menu).
Logo rotation: fixed projection,
Installing the gobo: gobo already installed in the projector for immediate use,
Projection focus: manually adjustable for clear projection. Electrical connection: power cord with mains socket (you can cut the cable if necessary for connection to a ceiling terminal block, for example).
Installation: wall, ceiling or freestanding fixing.
Projection angle orientation: manually adjustable.
Color: anthracite black.
Dimensions: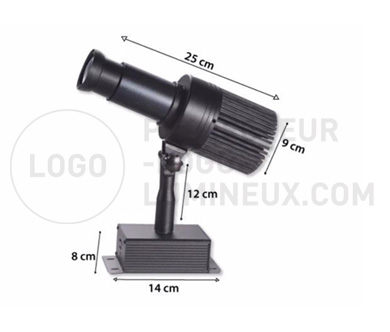 Weight: 1.6 kg
IP: 20 Lumens: 3500
Temperature: 6500 K
Beam angle: 17 °
Cooling: silent model without fan. Heatsink cooling.
Operating temperature: -20 ° / + 65 ° C
> Logo engraving:
HD glass gobo engraving (laser engraved glass slide with your logo, message, sign, arrow, etc.) in black and white for projection in white included in the price. If you need to display a logo in several colors, order an additional gobo in the GOBO ENGRAVING category of the menu adapted to the number of colors in your visual.
File to provide: vector file in .eps or .pdf format (with text and vector elements).
Send file: via the Send file category in the top menu (once your order has been placed).
> Delivery times: D+7 working days