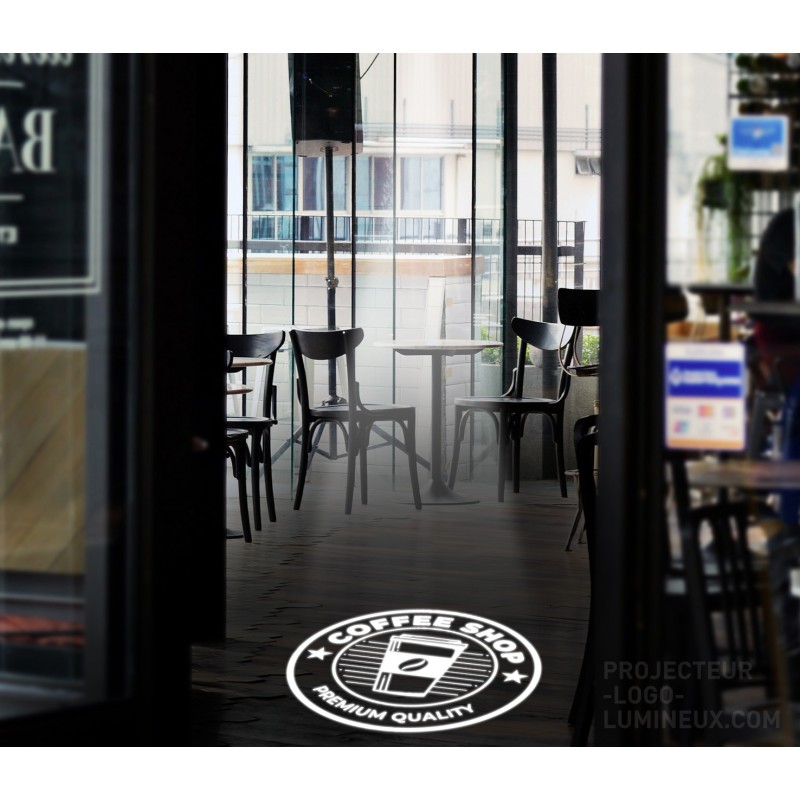  
LED sign light projector Bar, Restaurant, Pizzeria (interior)
Illuminated sign for restaurant and bar with LED projection technology 50 Watts (with rotation) indoor installation model (exterior available)
Product with the best quality / price ratio

European stock

Responsive sales department
Illuminated sign bar, restaurant, pizzeria projected with LED technology (power 50 Watts) with rotation of advertising.
- 5X cheaper than a traditional light sign!
- Economical in electricity and immediate visual impact to attract attention,
- Rotating logo for maximum visual effect,
- Easy installation and upgradeable (possibility to change the visual, order a new visual in the Gobo Engraving menu).
>> 2 versions available: Model for indoor installation (the product of this page):
Ideal for indoor projection on floors and walls. Wall, ceiling or freestanding fixing.
Can also be installed indoors and projection through a sidewalk glass for example (the projector has a manual focus to adjust the sharpness of the projection).
Model for outdoor installation (Menu Outdoor Projection): IP65 waterproof model for installation with exposure to rain. Allows a quality light projection on sidewalk, wall or any other surface.
Available visuals to choose from the drop-down list: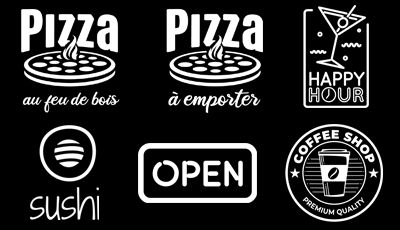 > Technical information:
LED power: 50 Watts
LED brand: Cree
LED usage time: 30,000 hours
Recommended projection distances:
- night: 10 meters, - normal lighting (250 lux on the ground): 4-5 m,
- intense lighting (500 lux on the ground): 2.5 m.
Use: indoor (outdoor model available here).
Logo rotation: moving or fixed projection (on / off control button),
Installing the gobo: gobo already installed in the projector for immediate use,
Projection focus: manually adjustable for clear projection.
Electrical connection: power cord with mains socket (you can cut the cable if necessary for connection to a ceiling terminal block, for example).
Installation: wall, ceiling or freestanding fixing.
Projection angle orientation: manually adjustable.
Color: anthracite black.
Dimensions: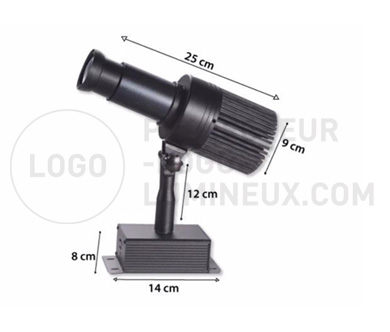 Weight: 1.6 kg
IP: 20
Lumens: 3500
Temperature: 6500 K
Opening angle: 17 °
Cooling: silent model without fan. Heatsink cooling.
Operating temperature: -20 ° / + 65 ° C
> Gobo engraving (predefined visuals to choose) included in the price: HD glass gobo engraving (laser engraved glass slide with a visual of your choice) in black and white for white projection included in the price.
Please select the visual you want via the drop-down list and add the product to your basket.